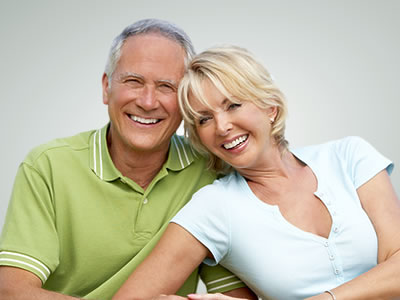 Restoring Your Smile
Tooth enamel is the hardest substance in the body. Damage caused by decay or trauma weakens teeth because enamel has been compromised. Our goal is to repair this type of damage as early as possible to preserve remaining healthy tooth structure. Restorative dentistry offers solutions to bring health and function back to your smile.
Replacement of Missing Teeth
If you are missing teeth, Dr. Davis will review options for tooth replacement with you to protect your smile. You may be a candidate for a dental implant, a dental bridge, or, in the case of multiple missing teeth, a partial or complete denture.
Dental Implants
Dental implants have become a standard treatment option for replacement of missing teeth and denture stabilization. In dentistry, implants are titanium posts that are surgically implanted into the jaw. The dental implant functions as an artificial tooth "root" which can be restored with a crown, bridge, complete denture or partial denture.
Root Canals
A root canal is usually the recommended procedure to save a tooth that has become infected, rather than extraction. By having root canal treatment, the tooth can remain in position and maintain its role in supporting jaw bone structures, bite balance and proper chewing. Teeth that have had root canal therapy are restored with a dental crown after treatment.
Sedation Options
In most cases, Dr. Davis will restore your smile in the comfort of our office. We have sedation options available to make your experience relaxing and easy.
Don't struggle with smile challenges. Warner Robins and Macon dentist, Dr. Ryan Davis, is experienced and trained in all phases of restorative dentistry. Contact us to learn more about the solutions dentistry has to offer to bring health back to your smile!